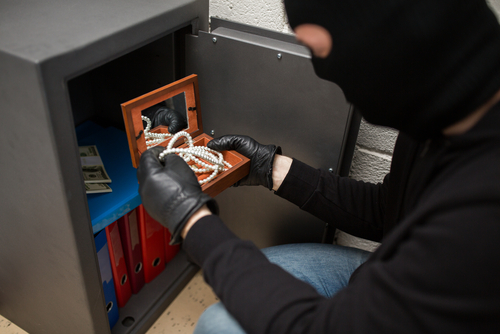 BURGLARY BAIL BONDS IN SANTA ANA
BAIL BONDSMAN FOR BURGLARY CHARGES IN SANTA ANA
If you have a friend or a loved one in jail and they are charges with burglary, it can be a very serious and stressful time for you and your family.
When it comes to burglary bail bonds in Santa Ana, there are several different degrees. Here at Blaine Carbo Bail Bonds, we have nearly 30 years' experience helping people who go through the stress, frustration and fear of having their friend or loved one in jail and charged with burglary.
Let Blaine Carbo Bail Bonds be your first line of communication. Our professional, friendly and experienced bail agents will answer all your questions regarding burglary bail bonds in Santa Ana and guide you through the bail bond process, all while working diligently and quickly to get your loved one out of jail and back home.
We recommend speaking directly to a bail bondsman at Blaine Carbo Bail Bonds at (714) 253-3047 or toll-free (888) NO-JAILS. We're here to help, 24 hours a day, including holidays and weekends.
ARREST AND BOOKING PROCESS
After a person is arrested for a burglary charge, they will be taken to either a local police department or they will be taken to the Orange County Central Jail Complex, which is located in the City of Santa Ana. 
Now, the booking process for burglary bail bonds in Santa Ana can take anywhere from 2 to 4 hours to complete at a local jail. However, if your loved one is taken to Orange County Central Jail, the process will be roughly 4-8 hours and will depend on how busy the jail is at any given time of the day.
The booking process will consist of taking a photo, getting fingerprint impressions and ultimately, running a detailed warrant check and entering the persons information into the jails' computer system.
All Santa Ana bail bonds can be posted 24 hours a day, 7 days a week. The jails never close and neither do we.
When you contact our bail bonds office for a consultation, our professional, licensed agents will always explain the bail bond amount, the booking process and charges. If you need more information, please take a look at our video library of informative bail bond videos.
DEGREES OF BURGLARY CHARGES
A burglary charge is when a person unlawfully enters, breaks into, or forcefully enters the following;
A house, room, apartment, tenement, shop, warehouse, store, mill, barn, stable, outhouse or other building, tent or vessel.
Even if your friend or loved one is caught trespassing or just walking through the door it could be considered burglary.
There are degrees of burglary charges which vary, see example below;
California burglary law is divided into 1st degree burglary and 2nd degree burglary.
1st degree burglary is burglary of a residence.
2nd degree burglary is the burglary of any other type of structure (including stores and businesses).
Now, a person could be facing a minimum of one year in the county jail, or the maximum of several years in state prison if found guilty. If the person has priors for burglary on their record, then they may be facing a much longer sentence.
DEFENDANT AND INDEMNITOR RESPONSIBILITIES
It is the defendant's responsibility to appear in court at every court date required. If the defendant fails to appear for any court date, the bail bond company will attempt to contact both the defendant and the indemnitor or signer.
Now, understand if there was some sort of misunderstanding, or an act of god or the defendant was injured and, in the hospital, contact the bail bond company as soon as possible. We can make arrangements with the court for a new court date and reinstate the bail bond. Quite often this is a situation that can easily be fixed.
If the bail bond company is unable to rectify the situation, a warrant for the arrest of the defendant will be issued and the bail bond company will have to locate the defendant. Therefore, both the indemnitor (or co-signer) and the defendant must make every effort to make sure the defendant appears at all court dates.
BAIL BOND OPTIONS TO MEET YOUR NEEDS
A lot of times, we have clients that contact us to get a person out of jail and even though the person is local, the person calling is located in a different area of California. They may even be located in a different state.
Well, good news, here at Blaine Carbo Bail Bonds this is not a problem. When you contact our local Santa Ana bail bonds company, we'll ask a few simple questions and get the bail process started, most of the time we can get started over the phone.
We have an easy application process which can be handled from the convenience of your home, office or wherever you may be located. All you need is either a fax machine or email address and we can get the bail bond started.
Blaine Carbo Bail Bonds is also a fully mobile bail bonds company, which means we will meet with you at the jail, or we can come directly to your home or office. It's strictly up to you.
PAYING THE BAIL BOND PREMIUM (OR FEE)
The standard bail bond premium or (fee) in Santa Ana and California, is typically 10% of the full bail amount.
An example of this would be; If the amount of the bail is $50,000 dollars, then the premium or (fee) to the bail bond company would be $5,000 dollars to get your friend or loved one out of jail.
However, here at Blaine Carbo Bail Bonds we offer lower rates to help save you money over all other bail bond companies. Call our local Santa Ana Bail Bonds office and ask an agent for more details.
There are several ways we can help you; we offer low down no interest payment plans, with payments low enough to fit into any family's budget. After all, we don't want to put you out of house and home, just to bail out your loved one.
We accept all forms of payment, cash, personal checks, money orders, you name it we probably take it. VISA, Master Card, American Express and Discover are all welcome here.
WHY CHOOSE BLAINE CARBO BAIL BONDS?
The answer is simple, we're professional, we're friendly and we care. For nearly 30 years' we've been helping families get their loved ones out of jail. And with experience like that, why would you trust anyone else? We know bail bonds because, well that's all we do.
Let us show you why we are one of the top-rated, number one bail bond companies in Santa Ana.
Call Blaine Carbo Bail Bonds now at (714) 253-3047 or reach us toll-free, at (888) NO-JIALS for fast, professional, experienced bail bond service you can trust when someone you love is facing a charge of burglary.